The Nescafé Dolce Gusto Majesto is a cool retro looking coffee brewer that looks stunning in any professional space.
Using an intuitive touchscreen, easily create any of 13 delicious drinks including frothy lattes, creamy cappuccinos, steamy espressos or Starbucks Americanos or Carmel Macchiatos.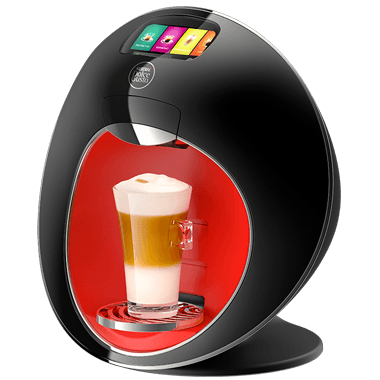 NESCAFÉ Dolce Gusto Majesto
This stylish capsule based coffee machine was created especially for the office. Its unique design allows you to enjoy the quality and diversity of coffee shop coffees in the workplace. Its small 14″H x 14″W x 13D" footprint allows the Majesto brewer to fit beautifully and easily into just about any office space.
GOOD TO KNOW:
1.8 liter intelligent water tank with water level detector ensures enough hot water to brew all the drinks your team craves.

Eco-mode: automatic switch-off after 30 minutes, giving the machine an energy consumption rating of A.

Hermetically sealed capsules keep the flavor in and contamination out.
Introducing NESCAFÉ Dolce Gusto Majesto
Intuitive Touch Screen:


Insert a capsule and use the intuitive touchscreen interface to select your favorite beverage. Simply drag and tap and let your coffee prepare itself!

15 Bars Max Pressure:


Create professional quality coffees with a thick velvety crema, thanks to the machine's high-pressure system (up to 15 bars).

Hermetically Sealed Capsules:


Hermetically sealed capsules preserve coffee freshness so you'll enjoy rich aromatic cups every time.

High Quality Beverages:


Enjoy 13 premium coffee creations. From a choice of intense Espresso and full-bodied Grande to frothy Cappuccino.

Hot & Cold Function:


Your Majesto capsule coffee machine is so versatile that you can also prepare delicious cold beverages with ease.
Connectivity Function:


Automatically receive the latest beverage updates directly to your machine thanks to Majesto's wireless connectivity.

Automatic Service Reminder:


Majesto's automatic service reminder notifies you when your coffee machine needs maintenance and provides step-by-step support.

Intelligent Water Tank:


Majesto's 1.8 liter water tank has a built-in automatic water level detector so there's always enough water to prepare the beverages you and your colleagues love.

Eco-Mode:


A convenient eco-mode feature automatically turns off the machine's screen after 30 minutes of inactivity, giving this machine an A rating in energy consumption.
Explore More Brewer & Breakroom Solutions